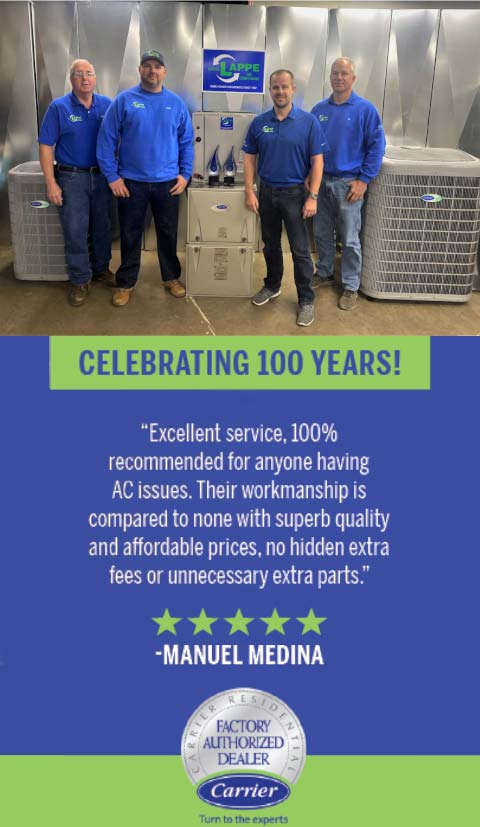 We're Hiring
We're looking for people to join our team. Think you might be the perfect fit? Check out our open positions.
See Job Listings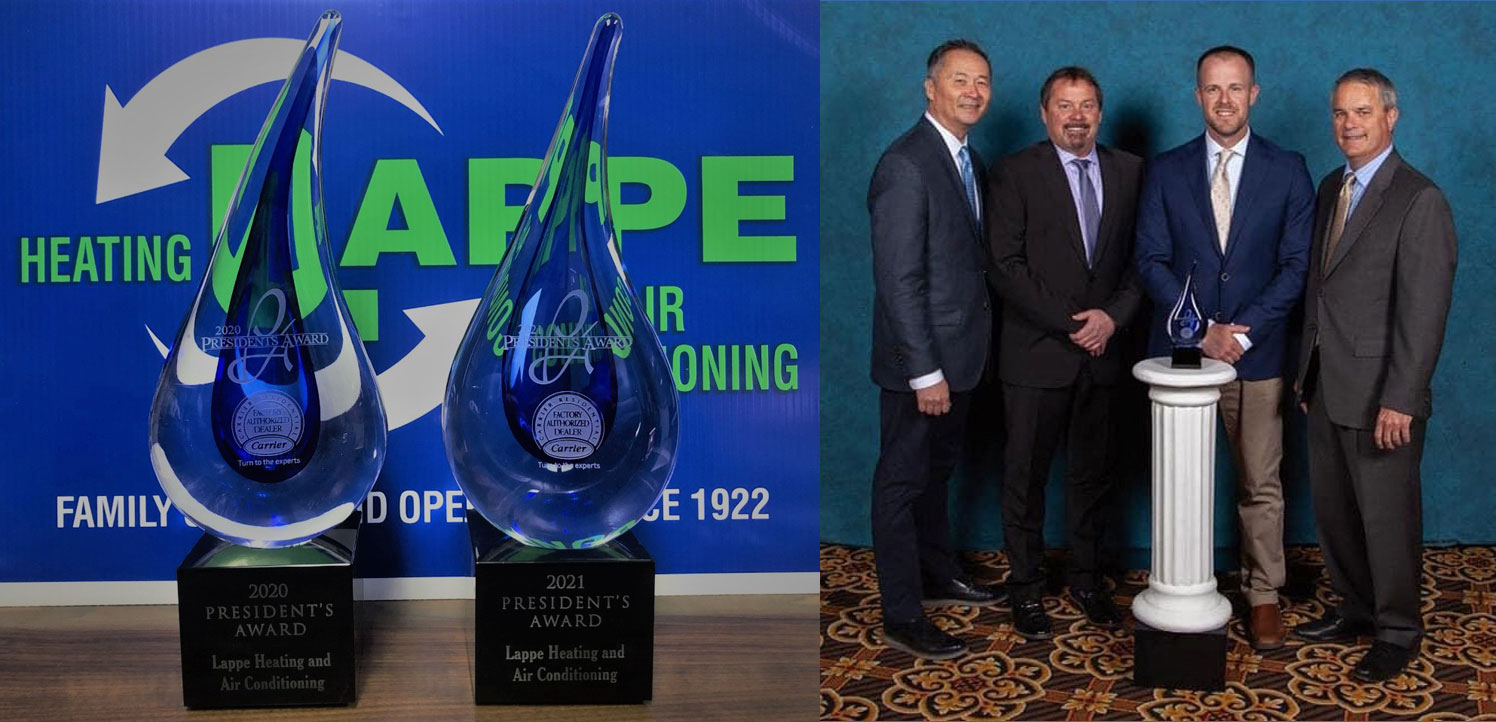 It's that time of the year again…
Make sure your HVAC System performs efficiently all year long with our professional HVAC Tune-Up.
Request Service
Evansville IN AC & Furnace Repair | Trusted HVAC Service
Family Owned & Operated Since 1922
It can be incredibly frustrating when your AC or heating furnace stops working correctly. There is nothing worse than spending thousands on an expensive HVAC system, only to have it malfunction when you need it the most. Luckily for you, our team of professionals is here to help.
If your home has lost its sense of comfort because of a faulty AC unit or furnace, give our team a call today. Regardless of the issue, we will work as quickly and effectively as possible to get your HVAC system up and running again.
Our team will not walk away from any problem. On the contrary, we will work alongside you and your family to fix the root issue. Your comfort and peace of mind are a top priority.
In addition to our quick and reliable service, we are completely transparent when it comes to pricing. In other words, we will not make you pay for any unnecessary repairs or services. This means that you will relax knowing that your HVAC requirements are sorted within budget.

Need Your Air Conditioner or Furnace Fixed? Call Our HVAC Pros!
When the temperatures begin to drop or rise, your air conditioner and furnace become a lifesaver. For this reason, you must have a reliable and professional team of technicians on your side.
Even though AC units and furnaces are built to be durable, they are not immune to the occasional breakdown. When the inevitable strikes, you can turn to our company to fulfill all of your HVAC system needs. With our team of technicians, your family will return to optimal comfort and receive peace of mind.

Get Your Air Conditioning or Heating Repaired ASAP | Call Today!
Helping you maintain your comfort is our number one priority. Whatever the issue may be, we are always the right company to call. Our technicians will replace faulty systems and repair any problems that may be causing them to malfunction. No matter the challenge, we will always be there to help solve the problem.
Our company has been fixing and installing HVAC systems for many years. For this reason, we have gained valuable experience that can be used to solve any issue related to your air conditioning unit or heating furnace. Our technicians will provide you with reliable service and will meet and exceed any expectations that you may have. On top of this, we will get the job done as quickly as possible to provide you with comfort again.
We are the team that you want on your side when you have an HVAC emergency. To schedule service, give our team a call today.
Areas We Serve
47701, 47702, 47703, 47704, 47705, 47706, 47708, 47710, 47711, 47712, 47713, 47714, 47715, 47716, 47719, 47720, 47721, 47722, 47724, 47725, 47728, 47730, 47731, 47732, 47733, 47734, 47735,
47736, 47737, 47740, 47747
Neighborhoods
ACT, Akin Park, Alvord Boulevard, BCG, Ballard, Bayard Park Historic District, Bellemeade, Business 41, CHAIN, Center City, Culver, Dexter, Diamond-Stringtown, Downtown, Downtown Historic District, Eastview, Fielding Court, Fulton Terrace, Garvinwood, Glenwood, Goosetown, Greater Lincolnshire, Hilltop, Howell, Independence Historic District, Iroquois Gardens, Jacobsville, Jeannette, Kelsey, Lamasco, Lant Manor, Lincoln-Bellemeade, Lincolnshire Historic District, Lorraine Park, Mount Auburn, North Country Club, North Park, Oakhill, Old Erie, Poplar Grove, Riverside, Rolling Greens, Rosedale South, Ross Center, STAR, Shepherd, South Lincoln Park Drive, Spring Park, Summit Place, Tepe Park, Timber Park, University South, Valley Downs, Washington Avenue Historic District, Weinbach, Western Terrace, Wheeler, Willemette.
Find Us Here
Business Information:
Lappe Heating & Air
621 N 9th Ave. Evansville, IN 47712
812-425-9464
Our Products

As a Carrier dealer, with a wide variety of products to choose from, we can keep your family healthy and feeling comfortable all year long. We carry a complete line of indoor comfort equipment with innovations that raise the standards of comfort and reliability, including air conditioners, heat pumps, gas furnaces, programmable thermostats, humidifiers, ductless split systems, geothermal systems, air cleaners, ultra violet lights, ventilators and zoning products. Let the experts at Lappe Heating & Air help you customize a solution that's right for you.
Learn More
Our Services

We are service professionals! As licensed contractors and specialists in the field of heating and air-conditioning, we have the tools, the equipment, and the experience to keep your equipment running smoothly all year long. If it is emergency service that you need, twenty-four hours a day, seven days a week, we are available to assist you! To help reduce service emergencies, we offer service agreements to keep your comfort system running at peak performance.
Learn More
Call Us Today to Learn More!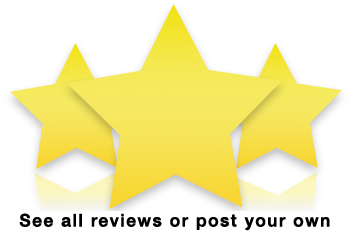 Reviews of
Lappe Heating & Air
(Based on 6 rated reviews)
Daniel was very easy to work with. No high pressure. Gave us options and answered all our questions. Came on time and finished complete removal and install the same day. Picked up all debris and hauled all old unit and boxes. Price as quoted. No hidden fees. Handled warranty registration. We are very happy with the product and service. Highly recommend them. With this kind of service they shoul…
Read more
I highly recommend Lappe for all your HVAC needs. Dave Lappe and his crew have always treated me very well. Ive had Lappe replace 7 new system at our church and two new systems at my home. Each time they were friendly, professional and very caring. Ive never felt like I was being over charged. Give them a call!…
Read more
HOURS
Monday-Friday: 7-4
24/7 Emergency Service
Payment Accepted
Cash
Check
Credit Cards